3DVisA Resources
3DVisA Index of 3D Projects: Digital Arts
BioMapping by Christian Nold
BioMapping is a method of monitoring and mapping people's emotional responses to situations and environments, to which they are exposed during actions orchestrated by Christian Nold, the artist who developed the method.
Nold is a London–based artist and cultural activist. He studied Fine Art at Kingston University and Interactive Design at the Royal College of Art. He teaches New Media Histories at the South Bank University, London and runs Electronics Clinics at the Bartlett School of Architecture, University College London.
Nold developed BioMapping as a system for recording people's bio-data along with their geographic location. Using a Galvanic Skin Response sensor connected to a Global Positioning Satellite (GPS) unit, he measures the participant's location and his or her physiological arousal at the same time. Data are subsequently processed, annotated by the participants and mapped in the form of 3D graphs on Google Earth.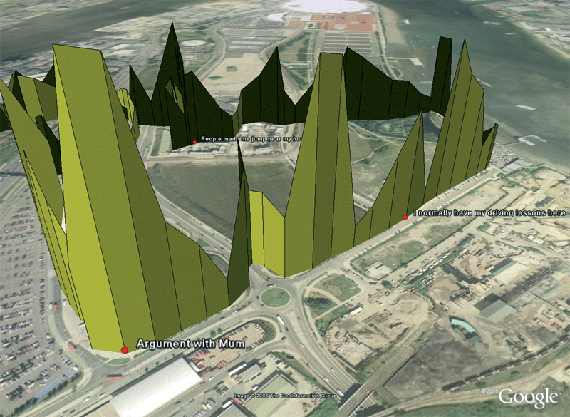 Fig. 1. BioMapping by Christian Nold. © The GeoInformation Group 2006. Reproduced by kind permission.

The graph peaks indicate arousal. Different colours are used for different walks. The experiment was carried out at various locations and by different groups. Independent Photography commissioned the artist in 2005 to work on visualisation of 'actions' with multiple participants which resulted in the creation of the Greenwich Emotion Map.


For further details see below.

Project dates: Ongoing since 1990s.

Resource status: A number of images from the actions involving BioMapping are available on the artist's website. The Greenwich Emotion Map has been published by the Ordnance Survey, 2006.

Sources and further details:

Christian Nold's website (further bibliography).

'The Artist Christian Nold talks to Anna Bentkowska-Kafel about BioMapping', an interview, 3DVisA Bulletin, Issue 1, September 2006.

Record compiled by Anna Bentkowska-Kafel. Last updated: 11 September 2006.

3DVisA gratefully acknowledges the help of Christian Nold with preparation of this record.

© Christian Nold and 3DVisA, 2006.

Back to the list of 3D projects